Services
32,94 square metres
Mineral water
Air conditioning
Closet or wardrobe
Hair dryer
Beach towel
Liability insurance
Private bathroom with sink, toilet, bidet and shower
Bathroom linen
Bed linen
First-aid kit
Toilet paper
Couch
Fridge
Independent entrance
Beach umbrellas to transport
Unsupervised parking lot
Stoneware or marble grit floor
Electrical socket next to the bed
Free bathroom toiletries
Heating
Life-saving environment
Bathroom circuit breaker
Sanitization
Desk
Clothes rack
Flat screen LED TV
Fan on request
Free WIFI
Mosquito nets
«La Capezzagna» is a small family-run holiday farm, run by Mauro and Sandra in the same residential building.
The Adriatico Suite is a 32,94 square metres studio apartment, without kitchen use, which can accommodate up to four people. It is an independent unit with its own entrance, obtained from the renovation of a stable that originally housed the cows raised on the property until the 1960s. 
There is a small sitting room with a sofa bed, a double bedroom and a bathroom. An extra bed can be added.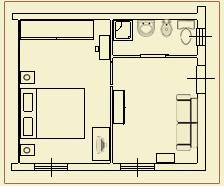 Book Now